George Washington Carver Award for Innovation in Industrial Biotechnology and Agriculture
Sponsored by: State of Iowa & Iowa Economic Development Authority
Just as George Washington Carver exhibited vision, creativity and persistence, nominees should exhibit traits of innovation and pioneering efforts in the field of industrial biotechnology. This award was created to recognize significant contributions by individuals in the field of industrial biotechnology and its application in biological engineering, environmental science, biorefining, and biobased products.
About the Winner
As former Governor of Iowa and U.S. Secretary of Agriculture, Thomas Vilsack has been one of the industry's strongest advocates toward the growth and development of the biobased economy.
As Agriculture Secretary, Vilsack identified the biobased economy as one of the four pillars that support our country's rural economy. As a result, the U.S. Department of Agriculture put forward a number of initiatives and programs that promoted renewable biomass and feedstocks, biobased products and renewable chemicals, advanced and cellulosic biofuels, plus rural infrastructure and manufacturing. Watch Vilsak accept the Carver Award on July 10 during the morning Plenary!
Past Award Recipients:
Dr. Sang Yup Lee, Distingushed Professor, Department of Chemical and Biomolecular Engineering at the Korea Advanced Institute of Science and Technology
Jeff Broin, Chairman & CEO, POET
Dr. J. Craig Venter, Co-Founder of Synthetic Genomics and Executive Chairman of Human Longevity
Jonathan Wolfson, CEO & Co-Founder, Solazyme
Ellen Kullman, CEO & Chair of the Board, DuPont - View her acceptance speech here
Dr. Jay Keasling, Hubbard Howe Jr.Distinguished Professor of Biochemical Engineering at the University of California, Berkeley
Steen Riisgaard, President and CEO of Novozymes
Feike Sijbesma, CEO, DSM
Dr. Greg Stephanopoulos, Professor of Chemical Engineering, MIT
Charles O. Holliday, Jr., CEO & Chair of the Board, DuPont
Patrick Gruber, CEO, Gevo, Inc
Rosalind Franklin Award for Leadership in Industrial Biotechnology and Agriculture
Sponsored by the Rosalind Franklin Society
Each year this award is given to an outstanding woman in the industrial or agricultural biotech who has made significant contributions to the advancement of the biobased economy and biotech innovation.
About the Winner
Reshma Shetty co-founded Ginkgo Bioworks, Inc. in 2008 and has been integral in driving the company's major partnerships with customers across multiple markets, including pharmaceuticals, agriculture, textiles, enzymes and more. With the goal of making biology easier to engineer, Shetty and the Ginkgo team have built labs that leverage software and hardware automation to bring rapid iteration, prototyping and scale to organism design and construction.
BIO has selected Shetty for this year's Rosalind Franklin award for her numerous contributions to the important goal of using industrial biotech innovation to develop sustainable biobased value chains. Don't miss Shetty accept the Rosalind Franklin Award this July 10 during the BIO World Congress morning plenary.
Past Award Recipients:
Krysta Harden, Senior Vice President, External Affairs & Chief Sustainability Officer, Corteva Agriscience, Agriculture Division of DowDuPont
Vonnie Estes
Anna Rath, President & CEO, Nexsteppe, Inc.
Jennifer Holmgren, CEO, LanzaTech
Dr. Debbie Yaver, Director of Expression Technology, Genomics and Bioinformatics, Novozymes
BIO Leadership and Legacy Award in Industrial Biotechnology and Agriculture
This award is presented to an individual who has shown exemplary leadership and who has dedicated a significant portion of their career to advancing industrial biotechnology and growing the biobased economy.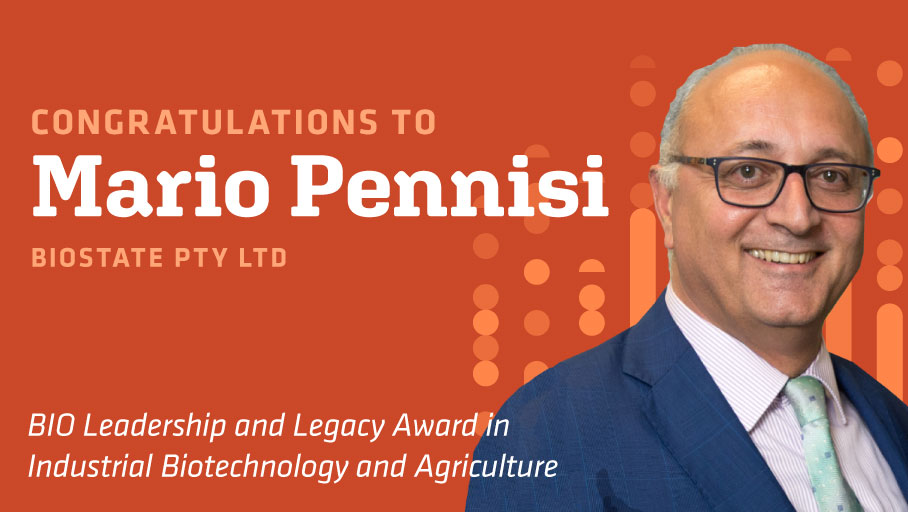 About the Winner
With a career spanning 35+ years, and named in 2018 by The Courier Mail as one of Queensland's 100 Most Influentia People, Mario is an experienced and sought after life sciencesprofessional, industry advocate and trusted advisor, working closely with government, industry and academia.
He is the Managing Director of biostate Pty Ltd, and serves as a Non-Executive Director with elo Life Systems Australia Pty Ltd, Alpine Immune Sciences Australia Pty Ltd, Suncare Community Services Ltd, and The Healthcare Impact Foundation Ltd. Previous roles include executive positions at Sullivan Nicolaides Pathology and Mayne Group, as well as CEO of QCTN and LSQ.
Past Award Recipients:
Dr. Gord Surgeoner, Ontario Agri-Food Technologies
Dr. Ganesh Kishore, Managing Partner, Spruce Capital Partners