Henry Chen, JD, Managing Partner, Delos Capital
Prior to establishing Delos in 2014, Mr. Chen was a Partner and Co-Head of Asia at Permira, a European private equity firm with global reach and a total committed capital of approximately €20bn. While at Permira, Mr. Chen worked on a number of transactions including Asia Broadcast Satellite and Galaxy Entertainment Group. Prior to joining Permira in 2008, Mr. Chen spent nine years in Investment Banking at Goldman Sachs, where he was a Managing Director and co-headed the General Industrials Group, Asia (excluding Japan) which covered consumer retail, healthcare, industrials and transportation sectors. Prior to that, Mr. Chen was a corporate finance lawyer with Davis Polk in New York and Hong Kong. Mr. Chen holds Bachelor and Masters degrees from Harvard University, USA, and has a Juris Doctorate degree from Harvard Law School, USA.
Patrick Flochel, Global Life Sciences Sector Leadership Team, Tokyo, Ernst & Young
Photo and bio coming soon.
Kyle Hathaway, PhD, Director of Policy and Government Relations, Asia Pacific, MSD, Merck
Bio coming soon
Apo Huang, PhD, Secretary General, Taiwan Bio Industry Organization
After receiving his PhD in Plant Pathology from Rutgers University, New Jersey (USA) in 1977, Dr. Bor-Fuei "Apo" Huang conducted his postdoctoral research at the Fox Chase Cancer Center in Philadelphia (USA). From 1979, he worked in the US as researcher and program directors in various AgBiotech organizations including Boyce Thompson Institute at Cornell University, AgBiotech R&D center at Allied Signal Corp. and Enichem Americas…. In 2002, he moved back to his native country Taiwan to join the Development Center for Biotechnology (DCB) switching from AgBiotech to drug development and from research to business development and management. With increasing responsibility he was the Director of International Collaboration, Director of Business Development and the Director General of Industry Promotion Division with a team of 70+ members conducting industrial information research, tech transfer/licensing and commercialization, business planning and development, private public partnership and international collaboration. After his retirement in 2012, he has been consulting with companies that are interested in developing biotech business with Taiwan. Since 2009 he has been the Secretary General of the Taiwan Bio Industry Organization, the largest biotech Association in Taiwan. He also has an MBA degree from the Pennsylvania State University, USA.
Taro Inaba, Managing Partner, Remiges Ventures
Taro has over 25 years of business development and venture investment experience. He spent 13 years at Mitsui Ventures in the venture investment field during which time he led the deal discovery, negotiation and due diligence process for the major portfolio companies in the drug discovery and development area and held positions as a board member in 11 companies. While at Mitsui Ventures he built and managed the biopharma investment team and infrastructure and served as President & CEO from 2008 to 2009. Prior to Mitsui Ventures Taro spent 10 years in various capacities at Mitsui & Co. Ltd, including extensive experience in business development roles. Taro holds a B.E. in Polymer Chemistry, Kyoto University and MBA from European University. Taro is a CFA charter holder.
Yuichi Iwaki, MD, PhD, President and Chief Executive Officer, MediciNova
Dr. Yuichi Iwaki is a founder, president and CEO of Medicinova, Inc, a biopharmaceutical company which is public both in the JASDAQ (code 4875) and NASDAQ (code MNOV) market. Dr. Iwaki also holds three professorships at the University of Southern California, Keck School of Medicine in the Departments of Urology, Surgery and Pathology and has been Director of the Transplantation Immunology and Immunogenetic Laboratory since 1992. He is also a visiting professor at the Toho University School of Medicine, St. Mary University and Kyushu University in Japan. Prior to joining the faculty at the University of Southern California, Keck School of Medicine, Dr. Iwaki held professorships at the University of Pittsburgh, School of Medicine in the Departments of Surgery and Pathology from 1989 through 1992. He received both his M.D. and Ph.D. degrees from Sapporo Medical School Japan. Dr. Iwaki is the author of more than 230 peer-reviewed publications and more than 40 books or book chapters. He has been advising pharmaceutical companies and venture capital funds regarding research and investment strategies for over 30 years and is a board member of several biotechnology companies.
Amy Jackson, Japan Representative, PhRMA
Amy Jackson joined PhRMA, as the Japan Representative, in January 2016. In this capacity, Ms. Jackson coordinates the activities of PhRMA's office in Tokyo and advocates for research-based pharmaceutical companies on government, economic and health care policy matters in Japan. She also currently serves as a Vice President of the American Chamber of Commerce in Japan (ACCJ) and a member of the Maureen and Mike Mansfield Foundation Board of Directors.
Ms. Jackson served as the President of the American Chamber of Commerce in Korea (AMCHAM Korea) from 2009-2015. In recognition of her efforts in promoting cooperative economic relations between the Republic of Korea and the United States, Ms. Jackson was awarded an Industrial Service Medal by President Lee Myung-bak in 2012. She was appointed as an honorary citizen of Seoul in 2013.
Prior to joining AMCHAM Korea, Ms. Jackson was a Director at an international trade and investment consulting firm based in Washington D.C. From 2002-2005, Ms. Jackson served as the Deputy Assistant U.S. Trade Representative for Korea, and from 1998-2002 she was the Director of Japanese Affairs for the Office of the U.S. Trade Representative (USTR). Prior to that, Ms. Jackson worked in the International Relations Division at the National Aeronautics and Space Administration (NASA). Ms. Jackson served as a Mansfield Fellow from 1995-1997.
Ms. Jackson has a Master's degree in International Relations from Johns Hopkins University and a Bachelors degree in Government from Pomona College
Shinichiro Komoto, Partner, Eight Roads
At Eight Roads, Sheen uses his extensive tech and healthcare experience to identify new investment opportunities and advise the growing Japan portfolio. Before Eight Roads, Sheen spent over 17-years at Mitsui & Co. working in Japan, Vietnam, and the US, most recently leading on investment activity in the healthcare sector. While at Mitsui, Sheen collected deep insights across the value chain, including in provider services, healthcare IT, and pharmaceutical R&D and marketing.
Ryo Kubota, MD, PhD, Representative Executive Officer, Chairman, President and Chief Executive Officer, Kubota Pharmaceutical Holdings Co., Ltd.
Dr. Ryo Kubota is an ophthalmologist by training who has performed more than 1,000 eye surgeries. Dr. Kubota spent his early career performing ocular research at Keio University, where he earned his MD and PhD. There, he discovered the glaucoma gene, myocilin, a discovery that earned him the Suda Award for his contribution to the field of neurodegenerative retinal disease. Dr. Kubota continued his research at the University of Washington and later licensed his findings from the university as the core technology on which he founded Acucela in 2002 in Seattle to develop novel therapeutics for patients with blinding eye diseases. In 2014, Acucela made a successful Initial Public Offering on the Tokyo Stock Exchange Mothers Board.
In December 2016, following a redomicile transaction, Acucela Inc. became a wholly owned subsidiary of Kubota Pharmaceutical Holdings Co., Ltd. of Japan and Kubota Pharma listed on the Tokyo Stock Exchange Mothers Board (Tokyo 4596). The company is committed to translating innovation into a diverse portfolio of drugs and devices to preserve and restore vision for millions of people worldwide. Kubota Pharma's development pipeline include drug candidates for the treatment of diabetic retinopathy, diabetic macular edema, Stargardt disease, age-related macular degeneration, cataracts and presbyopia, and optogenetics-based gene therapy for the treatment of retinitis pigmentosa. The company is also developing a handheld OCT device for the monitoring of neovascular retinal diseases, to be used directly by patients at their homes.
Dr. Kubota holds an MD and a PhD in medicine from Keio University. He has served as a faculty member at Keio University and at the University of Washington School of Medicine. He was board certified in ophthalmology by the Japanese Ophthalmological Society in 1996 and is a member of the American Academy of Ophthalmology, the Association for Research in Vision and Ophthalmology, the Japanese Ophthalmology Society, Keio Medical Society, the American Chamber of Commerce in Japan, and the America-Japan Society, Inc.
Since 2008, Dr. Kubota has been a director of the Japan-America Society of the State of Washington. He is a Foresight Advisory Group Member, Department of Pharmacology, Case Western Reserve University, and a board member of the National Bureau of Asian Research. He is also a visiting professor at School of Medicine, Keio University and advisory member for The Japanese Association of Medical University Network of Technology Transfer.
Bo Liu, PhD, Principal, Venture Investments, Johnson & Johnson Development Corporation – JJDC, Inc. (JJDC)
Dr. Liu is the Principal of Venture Investments of Johnson & Johnson Innovation – JJDC, Inc. (JJDC). He is based in Shanghai, China and focuses on the life science investment opportunities in Asia Pacific regions. Prior to joining JJDC, Bo was Director of Business Development and Strategic Planning with GlaxoSmithKline Consumer Healthcare China, where he led key strategic initiatives in mergers and acquisitions, licensing and portfolio optimization. Prior to GSK, he worked in the corporate development and strategy group with Charles River Laboratories in Boston, where he played an instrumental role in several strategic transactions. Bo has executed many M&A, licensing and venture investment transactions in the US, Europe and Asia Pacific. Bo received a PhD in Pharmacology from University of Rochester, an MBA from the University of Chicago, and a Master of Medicine from the seven-year program of Tongji Medical University in Wuhan, China. He received residency training in Urology at Union Hospital of Tongji Medical University.
Arlene Morris, Chief Executive Officer, Willow Advisors
Ms. Morris is currently the CEO of Willow Advisors, a consultancy advising biotech companies on financing, strategy and business development. Previously she was the CEO and Director of Syndax an oncology/immunoncology company developing entinostat for estrogen receptor positive metastatic breast cancer and lung cancer as well as melanoma. Under her leadership the compound advanced to a Phase 3 NCI sponsored study in combination with exemestane to reverse resistance to hormone therapy in patients. The compound was awarded Breakthrough Status by the FDA. Previously she was the chief executive officer and member of the board of directors for Affymax, Inc., a biopharmaceutical company located in Palo Alto, Calif., which was spun out of GlaxoSmithKline (GSK) in 2001 to develop a pipeline of synthetic peptide-based drug candidates including treatment of anemia in dialysis patients. During her eight years as president and CEO at Affymax, Ms. Morris led the company through the development of OMONTYS peginesatide, a strategic collaboration with Takeda, an Initial Public Offering and several follow on offerings. Prior to Affymax, Ms. Morris was the president and CEO of Clearview Projects, an advisory firm which counsels biopharmaceutical and biotechnology companies on strategic transactions. Before that she was the senior vice president of business development at Coulter, a biotech company focused on immunotherapeutic approaches to cancer, autoimmune and infectious diseases, where she completed numerous transactions including a $1.0 billion merger between Corixa and Coulter. Ms. Morris began her career at Johnson & Johnson (J&J) as a sales representative rising to vice president of business development.

In addition to Syndax, Ms. Morris serves on the board of directors of Neovacs SA, MiRagen, Viveve, Palatin, all public companies. She recently served on the boards of Dimension and Biodel. She also serves on the board and is Chair of the Foundation for Research and Development at the Medical University of South Carolina. She was recently on the boards of the Humane Society of Silicon Valley and BIO .
Kyle Murphy, Managing Director and Founder, KMG Japan
Kyle E. Murphy is the Managing Director and Founder of KMG Japan. Kyle has lived in Japan for a significant portion of his adult life. His business has involved working with Japanese and Asian Life Science and healthcare businesses for over 30 years. Kyle speaks Japanese and built a strong network of contacts in both the healthcare industry and government administration. He has represented over 100 clients and successfully structured numerous alliances between Japanese, Asian and foreign companies. Prior to founding KMG Japan, Kyle served as the First Commercial Secretary in the US Embassy in Tokyo where he managed all trade negotiations and activities related to bringing US companies into the Japanese healthcare market. Kyle began his career in the healthcare industry with business development and marketing positions at Schering-Plough in Osaka, Japan and SmithKline in the US.
Toru Seo, PhD, Senior Director, Head, External R&D Innovation Japan, Worldwide Research & Development, Pfizer, Inc.
Dr. Toru James Seo is Senior Director and head of External Science and Innovation (ES&I) of Pfizer in Japan He obtained his PhD in Molecular and Cellular Pathology from Wake Forest University and completed post-doctoral training in cardiovascular and metabolic diseases at Columbia University. He joined the faculty as an assistant professor in Department of Pediatrics at Columbia University Medical Center where he performed independent academic research as well as teaching in the field of lipid metabolism. In 2006, he moved to pursue a R&D career, focusing on target identification and preclinical pharmacology, first with GSK and then with Merck, both in Japan and the US. While at Merck in the US, his responsibilities grew to include project leader, global scientific committee member and Team Lead in Central Pharmacology, and his teams were responsible for preclinical PK/PD and pharmacology studies as well as external collaborations supporting cardiovascular and diabetes therapeutic areas. In 2012, he joined Taisho Pharmaceutical in Tokyo leading efforts in corporate strategy, scientific scouting, academic partnering, and product licensing. Leveraging his unique experience with the combination of academia and industry background, he has been actively engaging in scientific partnering efforts and he continues to lead open innovation after joining Pfizer Inc. as a Japan head of External Science and Innovation (ES&I), Worldwide Research & Development.
BT Slingsby, MD, PhD, MPH, CEO & Executive Director, Global Health Innovative Technology (GHIT) Fund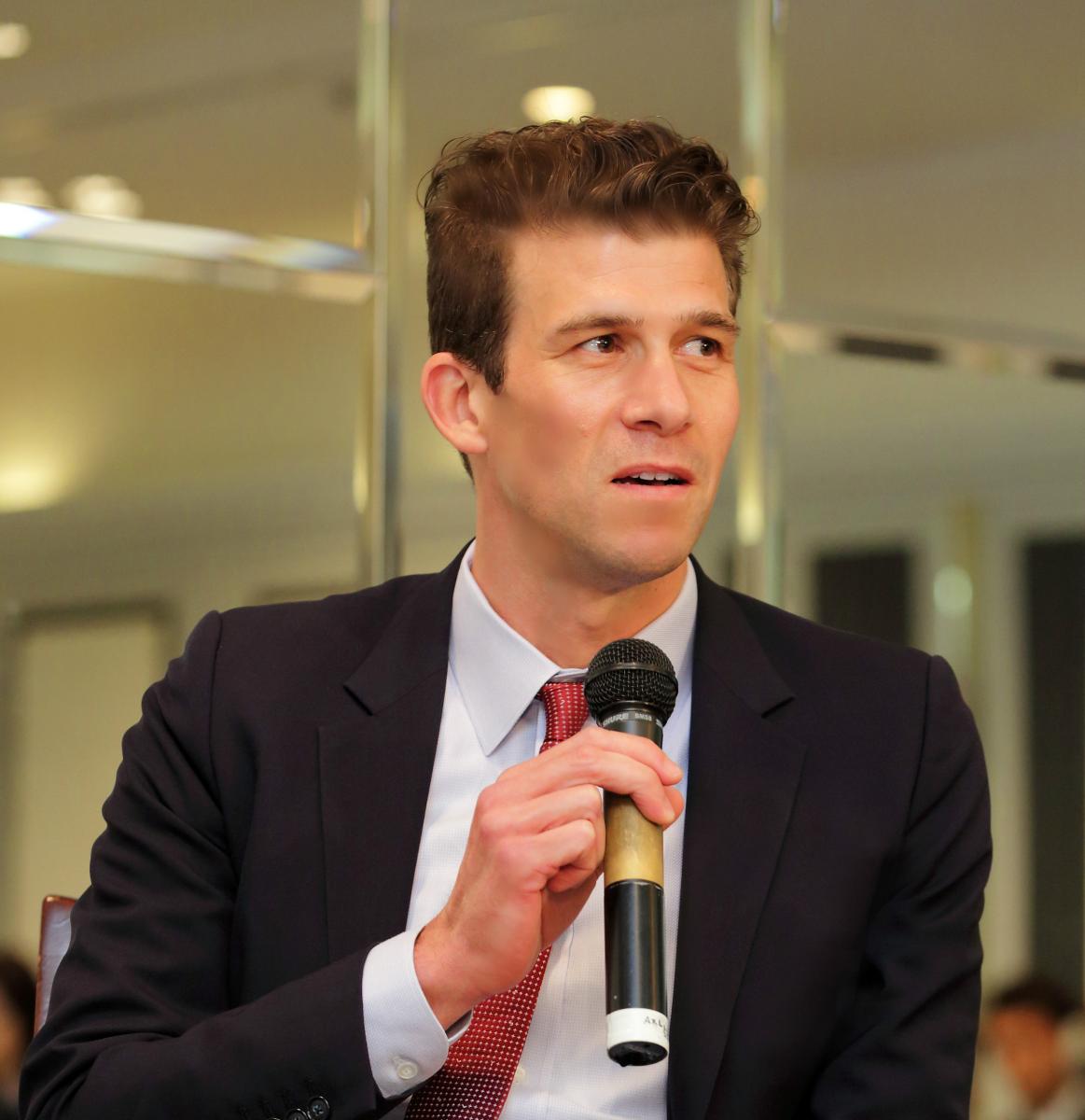 Dr. Slingsby is CEO & Executive Director of the GHIT Fund — the World's first public-private fund focused on the development of new medicines for low- and middle-income countries. Previously, he was the global head for access strategies at Eisai Co., Ltd. where he developed new business models for R&D and overlooked market access in the developing world. Dr. Slingsby has helped launch numerous start-ups in Japan and the U.S., and currently advises at the Graduate School of Medicine at the University of Tokyo and Kyoto University. He is a member of the Public-Private Partnership Forum at the National Academy of Medicine in the U.S. and the Global Health and Human Security Program, and has published over 50 peer-reviewed articles on medicine and public health in both Japanese and, American literature. Dr. Slingsby graduated from Brown University, earned his Masters and Doctorate from Kyoto University, and the University of Tokyo, and received his Medical Doctorate from the George Washington University.
Charles Stacey, MD, Chief Executive Officer, Cerecin
Dr. Stacey has over 15 years of experience in healthcare; working as a healthcare provider, executive, entrepreneur and investor. Prior to joining Cerecin, he was with Inventages, a global healthcare venture capital and private equity group. Dr. Stacey received his medical degree from King's College London and practiced as a reconstructive surgeon. His undergraduate degree and basic research were in the neurosciences at University College London. Dr. Stacey also completed an MBA at the London Business School and the Wharton School.
Rami Suzuki, PhD, Senior Director, Head of Japan Business Development, The Janssen Pharmaceutical Companies, Johnson & Johnson
Bio coming soon.
Ted Tanaka, Partnering Consultant, Tanaka International LLC
Ted Tanaka has worked at Accenture, where he managed teams of Accenture consultants and client staff to design and install improved management information systems for major US and Japan clients (including Yamaha & Ricoh). After 11 years, Los Angeles' Consulting Division had grown to 170 consultants. In 1986, Accenture, he created Tanaka International, an industry leading Japan/Asia specialist to clients in the USA, Canada, UK and Australia which aims to form corporate strategic alliances. He has personally arranged and conducted more than 2,500 strategic alliance and licensing meetings for clients at the global headquarters of Japan's largest drug manufacturers. He maintains personal, direct contact with Japanese CEOs, board of directors and global licensing heads, and has assisted clients to sign 23 license agreements to-date in Japan and Korea.
Gil Van Bokkelen, PhD, Chairman and Chief Executive Officer, Athersys
Dr. Van Bokkelen has served as Athersys Chief Executive Officer and Chairman since August 2000. Dr. Van Bokkelen co-founded Athersys in 1995 and has served as Chief Executive Officer and Director since the Company's founding. Prior to May 2006, he also served as the Company's President. Dr. Van Bokkelen is also the Chairman of the Board of Governors for the National Center for Regenerative Medicine. He served as the Chairman of the Alliance for Regenerative Medicine from 2010 through 2012, a Washington D.C. based consortium of companies, patient advocacy groups, disease foundations, and clinical and research institutions that are committed to the advancement of the field of regenerative medicine, and served ex officiofrom 2013 to 2014. He has served on a number of other boards, including the Biotechnology Industry Organization's ECS board of directors (from 2001 to 2004, and from 2008 to present). He received his Ph.D. in Genetics from Stanford University School of Medicine, his B.A. in Economics from the University of California at Berkeley, and his B.A. in Molecular Biology from the University of California at Berkeley.
Damien Villeneuve, Vice President, Business Development Asia-Pacific and Japan, Lupin
Damien Villeneuve is Vice President Business Development Asia-Pacific and Japan at Lupin. He is heading M&A /BD&L function for Asia-Pacific operations to support Lupin's ambitious growth plans consistent with the overall strategy. He has developed significant experience with a focus on development of Emerging Markets, M&A, business turnaround and negotiating complex deals in APAC. He joined Lupin from Allergan where he was Head of BD & Licensing. Prior to this, he had worked with Merck KGaA in various roles in APAC and also globally. He is a Pharmaceutical Doctor and a Ph.D. He also holds a Master's Degree in Marketing.
Hayato Watanabe, Vice President, Tokyo, Locust Walk
Hayato brings a wealth of entrepreneurship and financial advisory expertise to Locust Walk, being involved in private equity, venture financing and investment banking for nearly 20 years. He has focused on financing healthcare related and early-stage bio techs supporting their growth from preclinical to clinical stage development.
Prior to joining Locust Walk, Hayato was Venture Partner at Eight Roads, a proprietary venture investment arm of FIL, Fidelity International Limited, where he spearheaded its biotech investments. Hayato was involved in numerous state-of-the art biotech startup financings, closing two company formation deals related to gene editing and regenerative medicine and one global financing deal which involved coordinating with Fidelity's global investment teams from China, India to Boston. Prior to Eight Roads, Hayato was Director at Innovation Network Corporation of Japan (INCJ) a government backed private equity investment company, being responsible for biotech and healthcare venture investments where he lead a number of bio-tech investments in areas of CNS, ophthalmology and regenerative medicine. He was also a part of INCJ's effort in collaborating with research organizations such as RIKEN and major national universities in novel areas such as regenerative medicine cell and gene therapy.
Hayato began his career in investment banking at Nikko Salomon Smith Barney (current Citigroup) in mergers and acquisitions being involved in a number of transformative mergers amongst large Japanese pharma.
Hayato received his Masters of Law from Hitotsubashi University Graduate School of Law (Tokyo, Japan) and a Bachelors of Law from Hitotsubashi University and has spent a year at the London School of Economics and Political Science (General Course) focusing on European Union Law research.
Hayato lives in Tokyo with his wife and two children. Hayato is an active entrepreneur himself, founding Fermenstation, a bioethanol startup with his wife Lina in 2009. Other than helping his wife out with Fermenstation, he enjoys marathon running, traveling with his family and coaching his son's little league baseball.
He is a FINRA registered representative and holds his Series 79 and 63 licenses.
Dale Yakin, Managing Director, VelocityHealth Securities
Mr. Yakin began his career as an engineer focused on the design of biologic and chemical processes, earning his professional engineering license in the state of North Carolina (US). After several years of engineering design work, he transitioned into the business arena to concentrate on strategy and investment valuation. He joined Novartis Vaccines in 2006 with key responsibilities in the areas of M&A valuation, partnering, and capital planning as the newly acquired vaccines division entered a period of intensive expansion and renovation of its manufacturing network. While at Novartis, his key responsibilities and accomplishments included:
• Deal term structuring for over 30 deals, including in/out-licensing, co-manufacturing. Successful deals included first large-scale opportunities in Japan and Saudi Arabia, acquisition of a blood screening technology designed to identify new strains of disease-causing organisms.
• Developed award-winning methodology to graphically demonstrate the positive health economics of an advanced blood testing system to Government funding authorities in AsiaPac.
• Performed high-level analysis of target countries to determine optimal locations for expansion of manufacturing network considering such criteria as market access rules, local pricing, logistics, related tax impact, capital and labor costs.
• Coordinated review committee and led economic assessment for over $1.5B of capital investment initiatives supporting portfolio expansion, consolidation, quality/compliance initiatives, operational efficiency, and research.
• Drove strategic planning as part of Integration team for an acquisition near Hangzhou, China. Activities included pipeline assessment, financial forecasting, technology transfer, branding, and governance.
In the summer of 2013, Mr. Yakin left Novartis to represent VelocityHealth Securites in Asia where he had been a frequent speaker on the topic of integration management. He currently resides in Taipei, Taiwan where he focuses on transaction work. Funding projects include innovative technologies in the CVS space, oncology, and an aesthetic technology. Cross-border licensing initiatives include 505B2 assets in the pain and oncology space as well as generics initiatives.

Takafumi Yamamoto, CEO & President, TODAI TLO